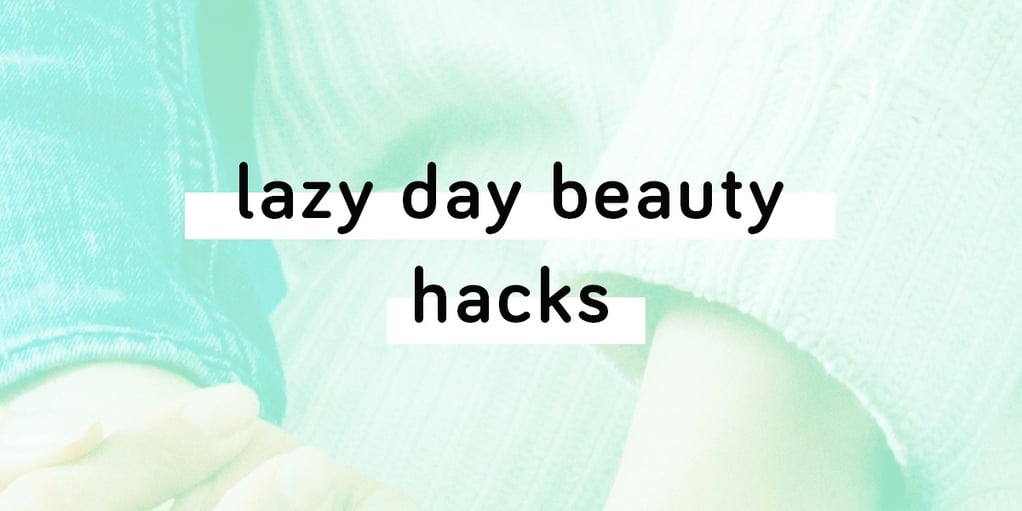 Sometimes, we just want a skincare "lazy day" and to go with an ultra-minimalist, no-nonsense alternative regimen – but we also want to maintain a beautiful and healthy look. From always wearing your hair in a top bun to using false lash extensions, which of our favorite "lazy" tips have you tried out before?
Braid your hair before bed
.
Braiding your hair before bed will give you some awesome, bouncy curls when you wake up the next morning, but more importantly it can also keep your hair from sticking to your face and clogging your pores. As you toss and turn during the night, hair can become stuck to the face, transferring oils to your skin (not to mention any germs and dirt that may be sticking to your locks) as well as your pillowcase. Do yourself a favor, and simply pull your hair back into a loose braid before you go to bed, and change your pillowcase every few days – your skin will thank you!
Put your hair in a top bun
We love to leave our hair free and flowing, but the wind always has a knack of blowing it all around our faces, smearing our makeup and getting our hair's oils into our pores. Simply tie your hair up into a simple bun and voila – no more hair in your face. More importantly, many shampoos, conditioners, and styling products contain pore-clogging ingredients like sulfates and silicones, which can in turn cause blemishes and pimples. By simply tying up your hair, you are limiting the contact that these potentially pore-clogging ingredients have with your face.
Drink a glass of cold water soon as you wake up
.
If you tend to be a little groggy in the morning, drinking cold water seems like an unpleasant way to wake yourself up. But research would seem to suggest that drinking some cold water in the morning is a great way to jumpstart your metabolism and make your skin glow. Whenever we drink something that is much cooler than our natural body temperature, our body has to work harder to keep everything in line. Drinking cold water can help to burn about 8 calories per 8 ounce class – not as good as a long jog or time in the gym, but nothing to snuff your nose at. But drinking water isn't just beneficial to your metabolism; maintaining a healthy level of hydration can make your skin look naturally plump and can minimize some signs of aging, such as wrinkles. When you drink plenty of water, it can act as a sort of protective barrier in the skin and protect against fluid loss.
You can spend hours each month brushing your teeth with a plain-old toothbrush, or you can just save yourself some time and use the Vanity Planet Elite Sonic Toothbrush. Revolving at a rate of 40,000 brush strokes per minute, the Elite Sonic Toothbrush eliminates plaque while revealing brighter pearly whites in no time, plus it comes with two replacement brush heads. The Elite Sonic Toothbrush's UV Sanitizing Charging Base can kill germs and bacteria from the toothbrush head while your device charges separately in the lower half of the charging base. The Two Minute Smart Auto Timer makes sure that you brush your teeth for the dentist-recommended amount of time.
Use the same shade of makeup on your eyelids, lips, and cheeks
.
If done well, lipsticks, eyeshadow, and blush of different shades can look fierce – like Beyoncé fierce. But if you don't feel like spending a lot of time in the mirror and don't want to pull off the au naturale look, then make sure that you use the same shade of makeup on both your eyelids, lips and cheeks. We recommend using berry, mauve, or pink.
An all-in-one formula that eliminates existing hyperpigmentation and keeps dark spots from developing, the Skin Lightening and Brightening Formula relies on plenty of plant extracts to leave your skin luminous and clear. Unlike other formulas that rely on harsh ingredients and multi-step treatments to eliminate hyperpigmentation, the Skin Lightening and Brightening Formula uses green tea leaf extract and resveratrol to lighten the skin, while jojoba oil moisturizes the skin and serves as a penetration enhancer. Suitable for those looking to treat age spots, uneven skin texture, scarring, and other forms of hyperpigmentation, the Skin Lightening and Brightening Formula is gentle enough to be used on sensitive skin and skin of almost any age.
Sometimes, it feels good to take a break from your regular skincare routine and only follow the basics.